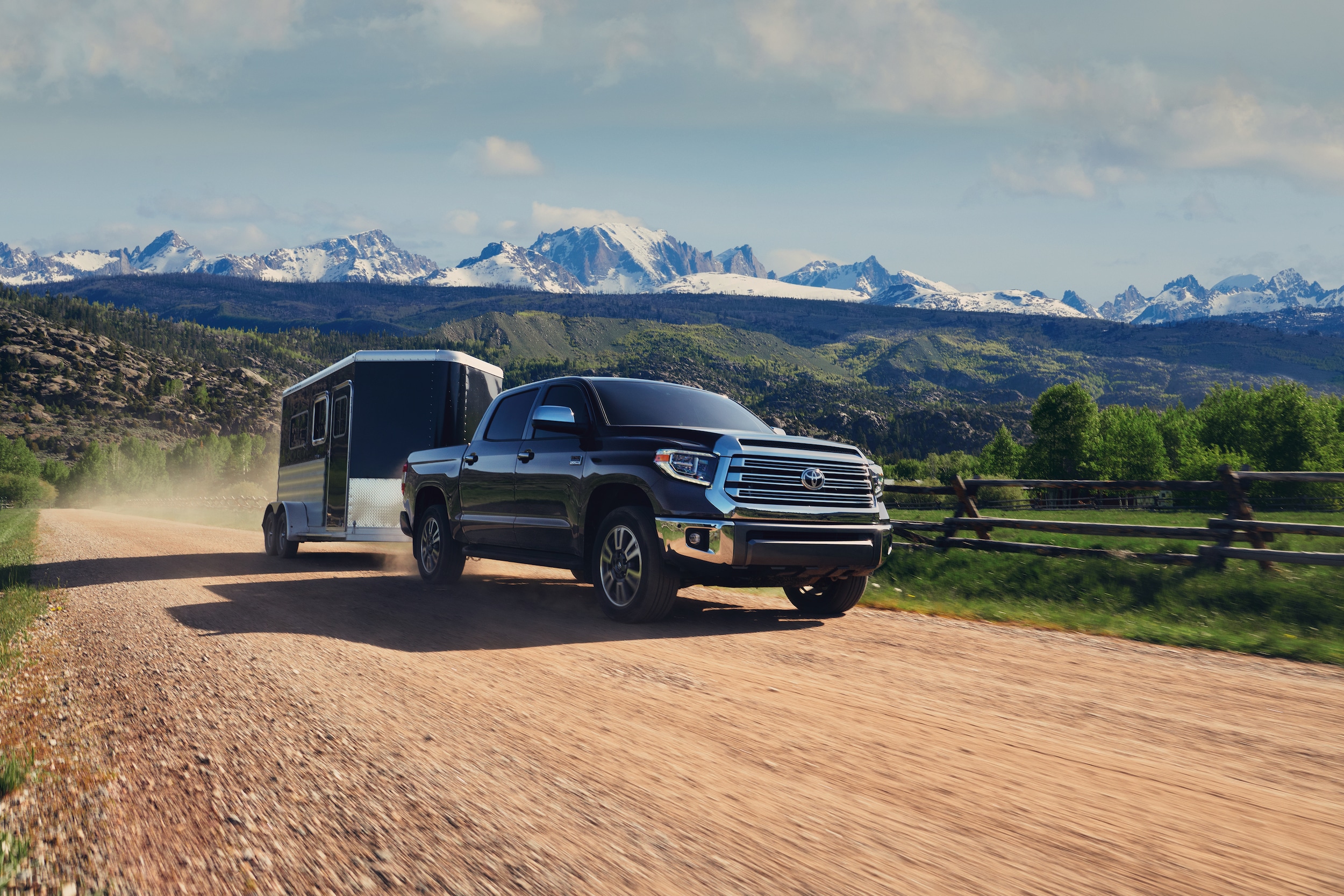 News flash. Toyota doesn't just develop invigorating cars and SUVs. Toyota also builds talented trucks, and that's about to be exemplified once more as the popular brand introduces a wave of new hybrid and electric Toyota pickup trucks. Toyota plans to bring electrification to its truck lineup in the near future, adding hybrid and BEV powertrains. When they arrive, Toyota of Somerset will make sure to let our customers from Lexington and Richmond, KY know. Our Toyota dealership in Somerset is excited for these Toyota hybrid and electric trucks to make their debut so you can drive them around Kentucky.
What's the Scoop on Hybrid & Electric Options for the Toyota Tacoma and Toyota Tundra?
After decades of only being able to drive Toyota hybrid cars and SUVs, the same electric technology is being brought to Toyota's truck lineup. At a recent global show, Toyota revealed that hybrid and battery-electric pickup trucks would be launched soon. Toyota's truck lineup currently features the Toyota Tacoma and Toyota Tundra, both of which are due for a full redesign. It's anticipated these hybrid and electric options will be unveiled during the next generation's release. When that comes, the Toyota Tundra and Toyota Tacoma are anticipated to move to a shared platform.
With its plan of all Toyota models offering a hybrid variant by 2025, the Toyota Tacoma and Toyota Tundra are expected to have available hybrids and even the potential for a full EV drivetrain when the redesign lands. It's all part of Toyota's grand plan to introduce 15 new battery electric vehicles in the next five years while expanding its product portfolio to nearly 70 models.
What Electrification Means for Toyota Trucks and How It Benefits Lexington Drivers
There are significant benefits to hybrid trucks. Oneida, TN truck enthusiasts shouldn't lose interest assuming their beloved Toyota Tacoma or Toyota Tundra is going to offer less power. That's actually far from the truth. The additional torque that comes with electric and hybrid drivetrains is great for towing, hauling and off-roading. So whether you're headed to the worksite, the lake, or a Kentucky campground with your Toyota truck, these hybrid drivetrains are guaranteed to take care of the job at hand.
One factor not to be overlooked is improved fuel economy. Trucks often have terrible fuel economy ratings, costing Kentucky and Tennessee pickup drivers far more at the pump than what they'd like to spend. When the new Toyota Tacoma and Toyota Tundra hybrid trucks arrive, they'll turn that frown upside down at the pump by offering significantly improved fuel economy ratings. While they won't top fuel economy ratings in the upper 30s, 40s and 50s (miles per gallon) that the Toyota hybrid cars and SUVs can achieve, the fuel efficiency of these hybrid trucks will be a welcome change.
Consider some of the benefits to driving a Toyota hybrid or battery-electric pickup truck:
Reduced fuel costs
Environment friendly! — Fewer emissions
Potential tax incentives with state & federal tax credits on hybrid & electric vehicles
Highly responsive with exceptional torque ratings
Generally less maintenance needs
Shop for New Toyota Tundra & Toyota Tacoma Trucks in Somerset, KY
These future Toyota Tacoma and Toyota Tundra hybrid and battery-electric trucks help solidify Toyota's global commitment towards carbon neutrality by 2050. These Toyota hybrid pickups are coming, and Oneida, TN pickup fans eager for the electric wave of the future can get behind the wheel of one when they arrive at Toyota of Somerset.
While we eagerly await the arrival of these Toyota hybrid trucks, consider buying a new Toyota Tacoma or Toyota Tundra from our Somerset, KY dealership to suffice in the meantime. Richmond, KY customers can browse our new Toyota inventory, where they'll find a Toyota Tacoma, the best-selling midsize truck that offers a multitude of cab sizes, truck bed lengths, and engine options. Its high resale value is a huge plus when it comes time to trade it in and upgrade to a Toyota Tacoma Hybrid. Don't forget about the new Toyota Tundra, with its towing capacity of more than 10,000 pounds and its lauded durability. Take one of these new Toyota trucks for a test drive in Somerset, KY today!